VIAVault has YOUR winning combination when YOU need it, where YOU need it, as long as YOU need it!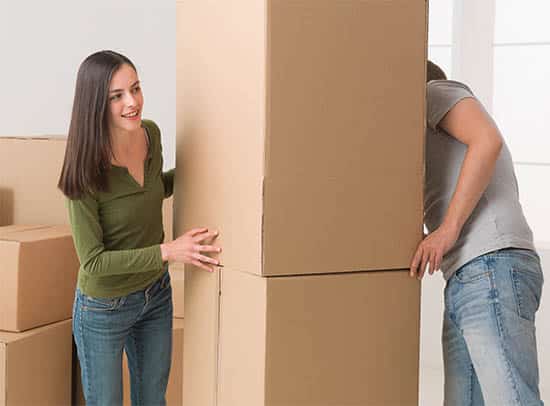 How Does VIAVault Help?
Fill out the online quote form and VIAVault® will organize the delivery and storage of your possessions as you're between homes, remodeling, or decluttering for property sale.
We will provide a ready-to-pack storage container to your house.
You've got the flexibility to load your possessions in a time period that is suitable for you.
When your container is filled, we will take it to our protected, climate-controlled storage center. You'll have access to the containers while they are in storage.
When you are all set to enter your new location, VIAVault® will send your storage container to that location.
Much like packing, you will have as much time as you want to unpack your things, and we we will remove the container when you're fully moved in.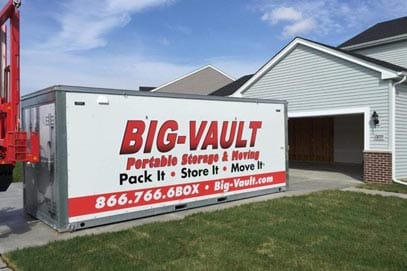 VIAVault® steel-frame mobile storage containers are durable and weather resistant. Have the peace of mind knowing that your things are protected and secure from water, UV light and mold while being stored. Our containers are available in 3 sizes:8 x 8 x 12, 8 x 8 x 16, and 8 x 8 x 20 – and because they are put at ground level, you have the advantage of loading and unloading without steps or ramps.
Just Imagine: You only have to load and unload your belongings once since they remain in the VIAVault® storage container throughout your project. We care of all the driving to and from our secure indoor storage facility (which you have access to anytime you want). Your timeline and schedule are on schedule because of our flexible delivery schedules. AND you get all this at a low price! Come on, it doesn't get any better than that!
We deliver an empty vault to your location. We offer curb to curb service.
Once your empty vault is delivered to your location, you can start packing.
Once you're ready, we will come and carefully move your filled unit to your next desired location. Or move your unit to our upscale storage facilities until re-location or redelivery is required.
Great Experience - Totally Pleased
I used VIAVault as a first time storage user to assist with a remodel of my home. The staff (Doug/Steve) were very helpful, personable and professional. My unit arrived PRISTINE! I almost didn't want to put my old items inside. All items were returned with no damage and overall was a great experience - without draining my budget. I will definitely be referring VIAVault and using them again in the future for any of my storage needs.
Perfect experience
100% satisfied. The staff was very helpful, the container was the best I've ever seen, the scheduling was very accommodating and delivery and pick up was right on time. Pricing was very competitive also. I couldn't ask for anything more!
Excellent Overall
Their storage container is larger then the competition. Their customer service is outstanding. On time with every pick up/delivery. I would definitely recommend VIAVault for your moving/storage needs.
FAQ
How Far In Advance Do I Need To Make A Reservation?
Via Vault can provide a vault as soon as you need one.  If you need a vault, please request a quote or call us at 866-766-6BOX.
How Much Space Does VIAVault Provide?
VIAVault units are a full 8′ in width compared to some companies that call their boxes 8′ x 16′ but in reality deliver the widest that they can deliver (due to their restricted lifting device) which is a container that is really only 7'2″ wide. Compared to these, VIAVault actually provides you with the extra 13.3 square feet of floor space that you are expecting. In actual packing area that extra 10 inches for the length of a 16′ box is equal to 106 cubic feet of storage space that VIAVault provides you.
VIAVaults are custom built to provide our clients with all the inside space for their use. Some other containers/boxes/PODS use a flimsy steel roll-up door which takes up inside space for the actual door spool. This wasted space represents approximately 22 cubic feet in our competitors PODS/boxes that are using these doors. VIAVault provides you that extra 22 cubic feet for your use.
What Are VIAVault Containers Made Of?
Base and Frame: Hot-Dipped Galvanized steel does not rust. That means there are no rust stains left on your concrete or block pavers.
Floor: Thick Marine Grade plywood provides anti-slip properties as compared to steel or aluminum floors. You and your stuff are less likely to slide around within the Vault.
Vents: Just the right amound of ventillation. There are two screened vents allowing air to equalize inside and out. You don't want too much air getting in as is inherently going to occur with other companies containers – Especially those using flimsy roll-up doors.
Roof: One-piece sun reflective aluminum roof with pitched support beams that keep heat, rainwater and snow off the roof. Does not dry out or crack like plastic roofs preventing water seepage. Does not allow in harmful ultraviolet sun rays that harm your valued furniture and belongings. Sealed to walls preventing weather and insects from entering the container.
Doors: Thick DuraPlate composite material. Hinged swing doors provide maximum use of Vault interior space. Double Sealed preventing moisture and insects from getting inside. Steel rod locking mechanism from floor to roof.
Walls: Smooth and durable DuraPlate composite material is strong and more resistant to outside weather conditions transfer (sweating) than simple smooth or corrugated steel skins. VIAVault composit walls are very clean. Never rusts. Never flakes. No oder retention. Visually appealing- inside and out. Tie-down rings provided throughout to allow users to secure their belongings at several locations. VIAVaults are constructed with thermally resistant wall and door material which is not subject to the immediate temperature change that simple steel sided competitors use. When weather changes quickly (cold steel warms by the sun) steel containers "sweat" creating what is known in the industry as "container rain". This means condensation forms on the roof and walls in the form of droplets ON THE INSIDE (where your valued possessions are stored)! Other companies don't want you to know about this and often avoid disclosing what their container is constructed of. If the other company uses a roll-up door they are passing on the same moisture intrusion problem just discussed.
Will I Be Able To Have Access To My VIAVault When It Is Stored In Your Warehouse?
Yes, please give us a call so we can able to put your container somewhere in our secure warehouse where you will have easy access to it. In our secure warehouse, the Vaults are stacked 2 high, and are 3 or 4 rows deep – so depending on where your container is, it just takes the warehouse manager some time to be able to move the other containers out of the way.