VIAVault has YOUR winning combination when YOU need it, where YOU need it, as long as YOU need it!
There are five (5) critical elements that VIAVault believes can not be compromised and still have a secure, full size, full feature, weather resistant storage container delivered gently and horizontally throughout the entire delivery, pick-up and re-delivery process. The four considerations you should not compromise are featured below.
1.  Uncompromised Quality and Service backed by a Lowest Price Guarantee.
VIAVault will provide you with the winning combination of friendly, helpful personell. VIAVault will deliver you the best storage Vault on the best delivery system and guarantee you the lowest pricing as compared to other companies providing similar, but not equal, delivery and services.
2.  How the container/Vault is loaded and delivered or transported from place to place is the first critical component.
VIAVault utilizes our very own custom truck and lift to gently lower your, full size, VIAVault on your surface with direct and full contact with our lift throughout the entire process. This means that your VIAVault will be placed where you would like it with even pressure over the entire Vault base..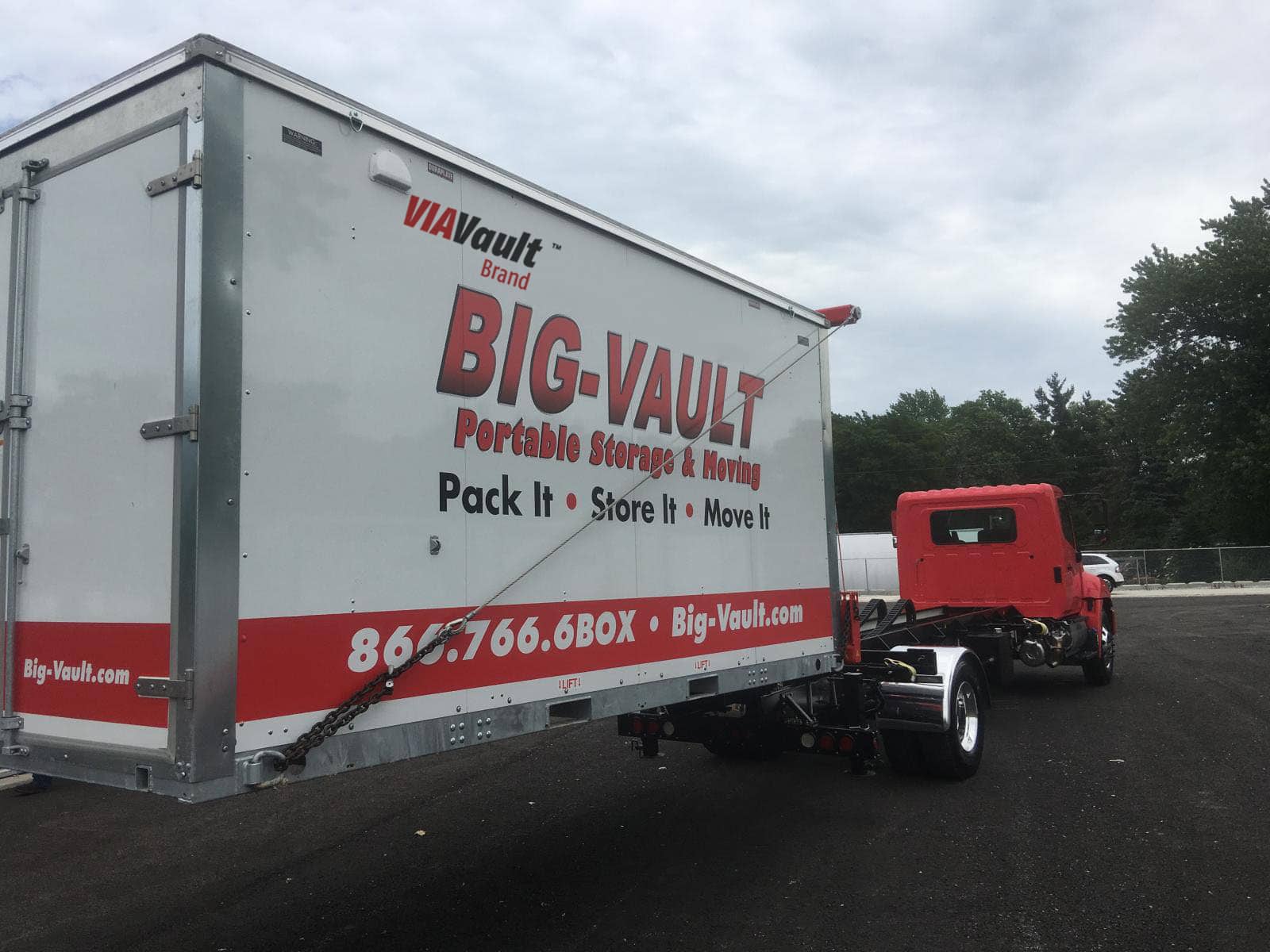 This is compared to some other lifts that suspend the POD from chains from a monster lift device that is a structure which has rubber wheels that mark, rut, and scar your concrete and landscaping while maneuvering the suspended POD onto your surface.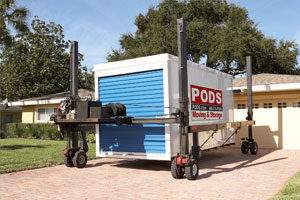 The other alternative is the roll-off delivery systems that risks damage to your driveway or finished surface by striking the ground with steel rollers, or wheels on one edge of the container- unevenly striking your surface at an angle potentially rutting, scarring, chipping or cracking your concrete, asphalt, or brick pavers. This method is NOT an equivelant delivery/lift system as VIAVault's Horizontal/Level lift delivery system.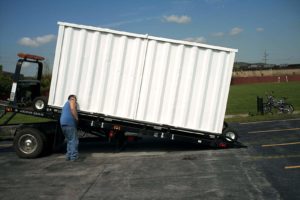 The process of retrieving your Vault for re-delivery or storage at our site is equally, if not more important, than delivery of an empty Vault. Now- your valued belongings are packed inside the container/Vault. VIAVault's custom lift firmly attaches to one end of the VIAVault and gently, maintaining horizontal positioning, throughout the whole lift brings your loaded VIAVault onto the truck chassis and securely seats the VIAVault on our truck for transportation. It takes little imagination to understand what would happen to your belongings packed inside a POD or container that is picked up from a swinging and swaying chain suspension device, or worse yet a tilt bed truck rolling your packed container up an incline to truck bed height.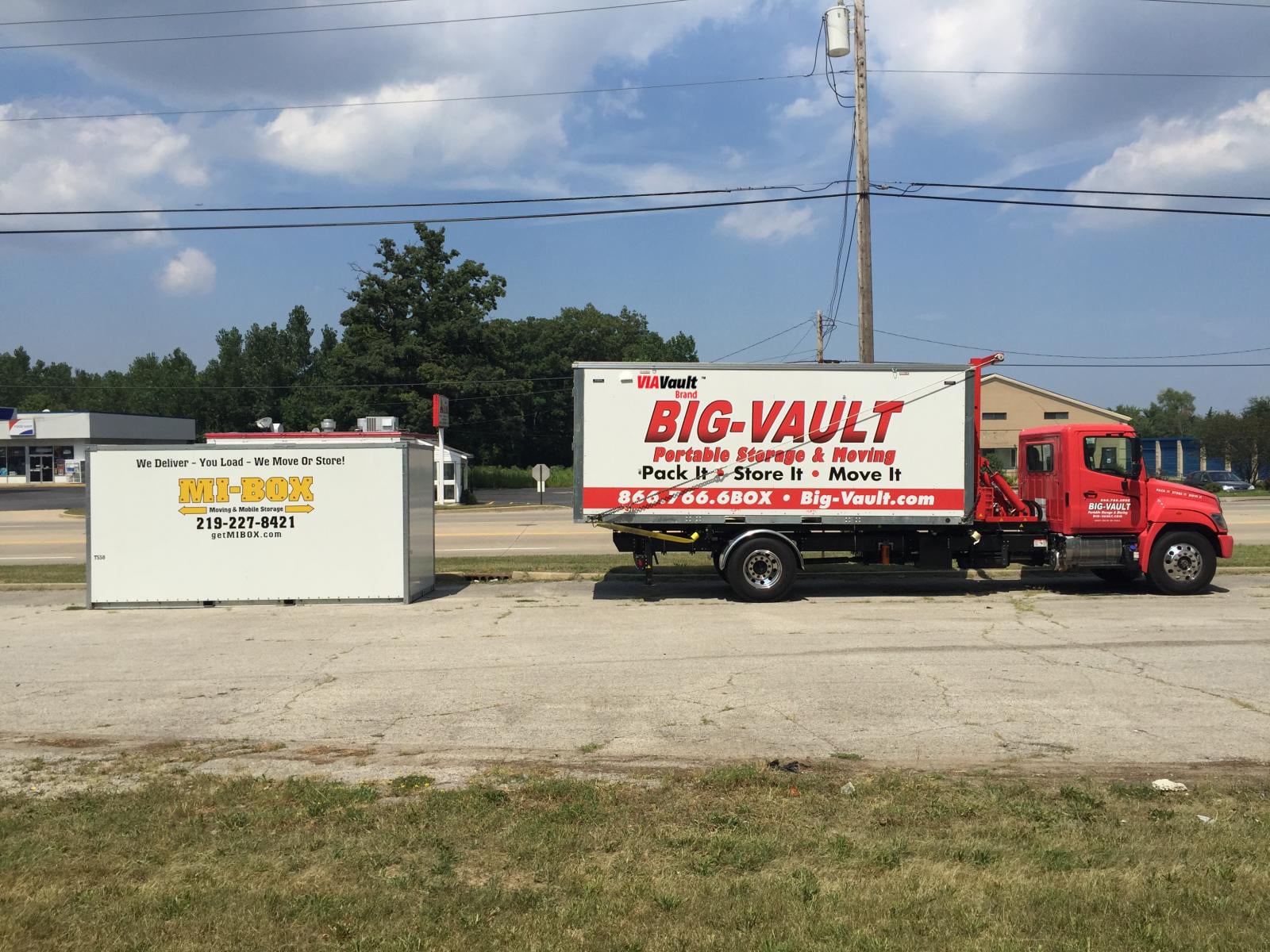 3.  Size Matters. You should get what you are told you will be getting.
VIAVault units are a full 8′ in width compared to some companies that call their boxes 8′ x 16′ but in reality deliver the widest that they can deliver (due to their restricted lifting device) which is a container that is really only 7'2″ wide. Compared to these, VIAVault actually provides you with the extra 13.3 square feet of floor space that you are expecting. In actual packing area that extra 10 inches for the length of a 16′ box is equal to 106 cubic feet of storage space that VIAVault provides you.
On the subject of inside useable storage space- VIAVaults are custom built to provide our clients with all the inside space for their use.  VIAVault utilizes the most secure and vandal-proof, full sized hinge swing doors with solid steel rod locking mechanism from floor to roof. Some other containers/boxes/PODS use a flimsy steel roll-up door which takes up inside space for the actual door spool. This wasted space represents approximately 22 cubic feet in our competitors PODS/boxes that are using these doors. VIAVault provides you that extra 22 cubic feet for your use. Competitors that use boxes that are not full 8 foot width or do not use hinged doors are NOT equivelant containers to VIAVault's custom built Vaults.
4.  Doors. Ease of access, Security from vandals and weather, and full access to your Vault are provided by VIAVault.
Hinged doors, as designed on the VIAVault containers, are much more secure and vandal proof than the thin metal roll-up style doors used by others. Besides being superior in strength, VIAVault doors are designed with comprehensive dual rubber seals all around. This makes VIAVault doors more resistant to weather and the elements that is an inherent problem with competitor's roll-up doors.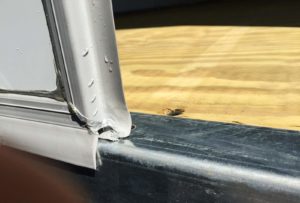 Roll-up doors on a portable storage unit are more than just inefficient–they're ineffective! Roll-up doors are inefficient because they need space inside your container for the cylinder and this takes away a minimum of 13.3 cubic feet of your space.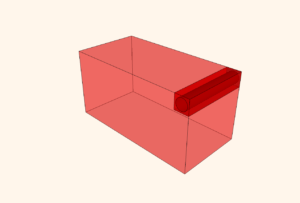 Among other reasons: This happens when items are placed upon the soft cushions chairs or couches. When belongings shift and lean against a roll-up door it prevents the door from opening! This can happen over time even within a non-moving self storage facility. However, this is not an issue with the swing doors attached to our VIAVault units!
As stated in 3. above, competitors that use containers/boxes that a do not use hinged doors are NOT equivelant containers to VIAVault's custom built Vaults.
VIAVault doors and containers are constructed with the same technology that millions of over-the-road trucks use on modern trailers because it is a proven method of safely sealing the contents within.
There are many details that go into a custom built VIAVault container that you don't see or maybe even don't think about- but that's ok. VIAVault has considered all that matters and chosen the absolute best components and construction methods, from the floor to the roof, to insure that you are getting uncompromised quality when you rent a Portable Storage Vault from the best provider in the area – VIAVAULT PORTABLE STORAGE & MOVING.
Base and Frame: Hot-Dipped Galvanized steel does not rust. That means there are no rust stains left on your concrete or block pavers.
Floor: Thick Marine Grade plywood provides anti-slip properties as compared to steel or aluminum floors. You and your stuff are less likely to slide around within the Vault.
Vents: Just the right amound of ventillation. There are two screened vents allowing air to equalize inside and out. You don't want too much air getting in as is inherently going to occur with other companies containers – Especially those using flimsy roll-up doors.
Roof: One-piece sun reflective aluminum roof with pitched support beams that keep heat, rainwater and snow off the roof. Does not dry out or crack like plastic roofs preventing water seepage. Does not allow in harmful ultraviolet sun rays that harm your valued furniture and belongings. Sealed to walls preventing weather and insects from entering the container.
Doors: Thick DuraPlate composite material. Hinged swing doors provide maximum use of Vault interior space. Double Sealed preventing moisture and insects from getting inside. Steel rod locking mechanism from floor to roof.
Walls: Smooth and durable DuraPlate composite material is strong and more resistant to outside weather conditions transfer (sweating) than simple smooth or corrugated steel skins. VIAVault composit walls are very clean. Never rusts. Never flakes. No oder retention. Visually appealing- inside and out. Tie-down rings provided throughout to allow users to secure their belongings at several locations. VIAVaults are constructed with thermally resistant wall and door material which is not subject to the immediate temperature change that simple steel sided competitors use. When weather changes quickly (cold steel warms by the sun) steel containers "sweat" creating what is known in the industry as "container rain". This means condensation forms on the roof and walls in the form of droplets ON THE INSIDE (where your valued possessions are stored)! Other companies don't want you to know about this and often avoid disclosing what their container is constructed of. If the other company uses a roll-up door they are passing on the same moisture intrusion problem just discussed. Here are some images of steel sided containers: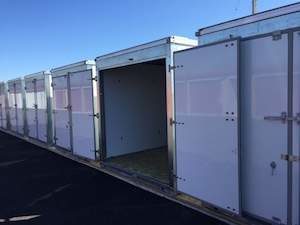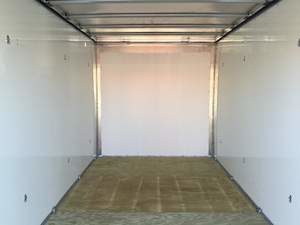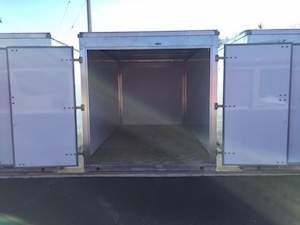 As a locally owned and operated portable storage facility serving NWI and the greater Chicagoland areas, our team knows what it takes to provide you with the service, amenities, and peace of mind you need to feel confident during your busy move. Our portable storage units come in three sizes, 8'x12', 8'x16', and 8'x20′ making it easy to rent the perfect space for whatever your belongings require. We'll bring these units directly to your property, allowing you to fill it on your own time and then call us when you're ready to have it returned to our secure property. Reach out to our team today and we'll get you started.
Plus, because our units are entirely portable, you can have them delivered just about anywhere in the greater southern Chicago area. Our main office and facility is located in Dyer, Indiana, but our service area reaches out well beyond the confines of our home base. Whether you live in the Illinois cities of Crete, Lansing, Olympia Fields, Homewood, or South Holland, or the Indiana cities of Saint John, Schererville, Munster, Highland, Cedar Lake, Hammond, Merrillville, or Crown Point, we want to give you a hand with your move or business storage project. Give our team a call to ask about the portable storage process or visit 
our FAQ page
 to get more information about our facility and services!
How Does a VIAVault Move Compare to Traditional Movers?
Lets face it. Moving is stressful at the best of times – thats why at VIAVault we built our company around the idea of "convenience" and "ease". These are two terms that are not typically synonymous with moving.
On the surface – local moving is local moving. Your things get from A to B and you are done. However, all the details in the middle are what cause the stress of moving. That's why a VIAVault move is better across the board than working with a traditional moving company. A few things to consider:
Convenience – VIAVault are convenient. We deliver them when you want them and we move them when you tell us to.
Easy to Use  – with a VIAVault move there is no rush to load and unload a moving truck. You can take your time every step of the way.
Peace of Mind – with a VIAVault your items always stay with you. While your loading  or unloading your container and your posessions are at your location – nice and secure.
Your Schedule – traditional moving companies are always late, or always are delayed on delivery. VIAVaults delivers and moves on your schedule.
When you order a VIAVault – we deliver to you a container that is engineered from the ground up to be exceptional. Our containers are weather resistant, load at ground level and have the most usable interior space of any container on the market. Pure and simple they beat local moving companies hands down in every way.
More Question? Call Us Today: (866) 766-6BOX
Compare VIAVault Moving to Other Portable Storage Services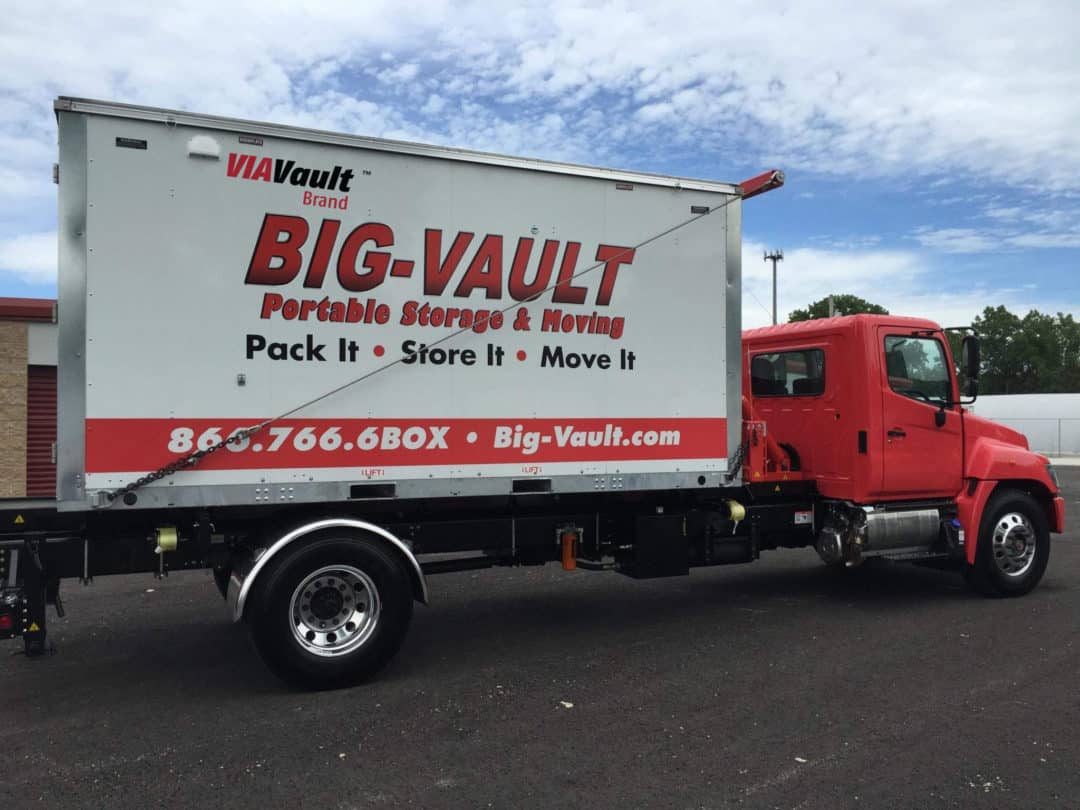 Not all portable storage companies are equal. When shopping for the best solution for your needs its important to know the facts when making your decision. At VIAVault our sole purpose is to provide you with the absolute best in customer experience, service and container technology.
It doesn't matter if you are considering a PODS, MIBOX, UNITS, PACKRAT or some other solution. They simply don't stack up against VIAVault – between our incredible containers, fast deliveries, maniacal customer service and our great prices – there isn't a better solution out there anywhere.
Want to Learn More? Call Us Today: (866) 766-6BOX
The Best Price Guarantee
Uncompromised Quality and Service backed by a Lowest Price Guarantee.
If you have made a booking through our website and find a similar Vault deliverable with a similar Horizontal/Level Lift Delivery System as VIAVault for a lower rate within 24 hours on a competing website, we will match this rate and add a 10% reduction.