VIAVault has YOUR winning combination when YOU need it, where YOU need it, as long as YOU need it!
How Does Portable Storage With A VIAVault Work?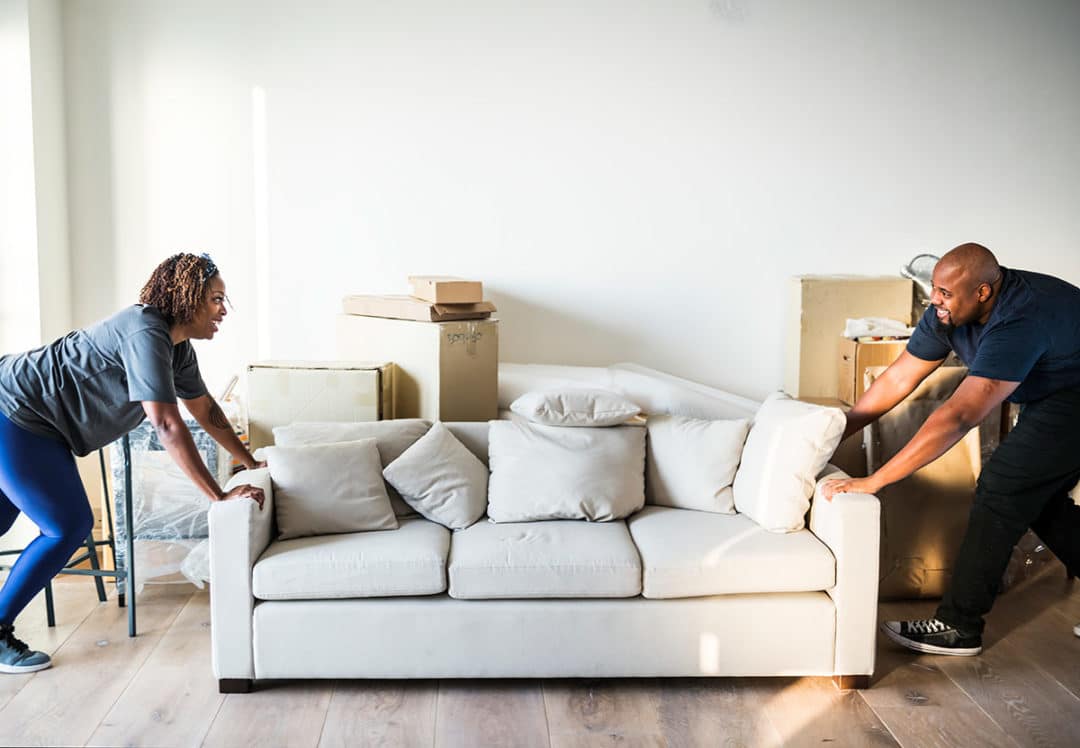 At VIAVault, our goal is to bring you the easiest, and most convenient storage and moving solutions available anywhere. With us you don't have to worry about running things back and forth to a storage facility, or if you're belongings will be safe and secure – all you have to worry about is calling VIAVault to place your order. This is how our process works:
Tell Us About Your Need – Call us at (866) 766-6BOX or submit a quote request above and one of our friendly representatives will assist you by getting you a quote, scheduling a VIAVault delivery and will address any other needs you may have. Don't forget you can request a quote online too!
We Come To You – We will deliver a ready-to-pack VIAVault Portable storage container to your home or business.
Load At Your Pace – No need to rush to load your VIAVault. Take your time to load your VIAVault – with our solutions you can load as quickly (or as slowly) as you would like.
We'll Move Your Stuff – When your VIAVault is loaded, call us and we'll take it to our secure, climate-controlled storage facility.
Securely storing your belongings doesnt have to be difficult, and with a VIAVault, ease of use is just a  phone call away! We offer the easiest, most convenient portable storage solutions on the market – so call us or request a quote today!
Other Services We Offer At VIAVault 
Local Moving
Planning on moving soon? Why use rental trucks when VIAVaults can make moving convenient and easy! If you need mobile storage or portable storage, VIAVault Portable Storage and Moving has you covered.
Storage and Moving
If you need your self-storage portable vault delivered to a different
location- that is no problem! VIAVault can deliver to your
surrounding local area.
What Our Customers Say About VIAVault
Great Experience - Totally Pleased
I used VIAVault as a first time storage user to assist with a remodel of my home. The staff (Doug/Steve) were very helpful, personable and professional. My unit arrived PRISTINE! I almost didn't want to put my old items inside. All items were returned with no damage and overall was a great experience - without draining my budget. I will definitely be referring VIAVault and using them again in the future for any of my storage needs.
Perfect experience
100% satisfied. The staff was very helpful, the container was the best I've ever seen, the scheduling was very accommodating and delivery and pick up was right on time. Pricing was very competitive also. I couldn't ask for anything more!
Excellent Overall
Their storage container is larger then the competition. Their customer service is outstanding. On time with every pick up/delivery. I would definitely recommend VIAVault for your moving/storage needs.
How Does VIAVault Compare With Other Portable Storage Companies?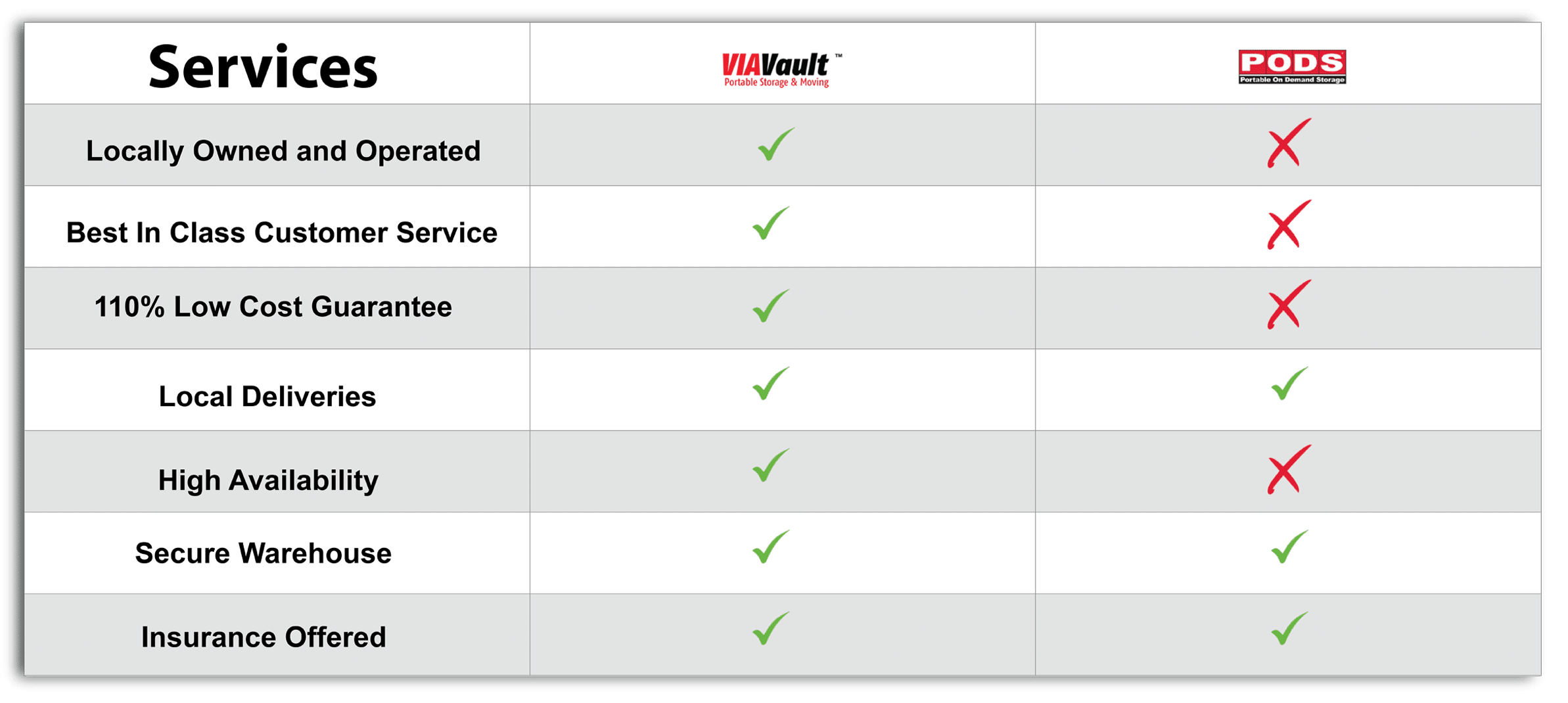 Not all portable storage companies are equal. When shopping for the best solution for your needs its important to know the facts when making your decision. At VIAVault our sole purpose is to provide you with the absolute best in customer experience, service and container technology.
It doesn't matter if you are considering a PODS, MIBOX, UNITS, PACKRAT or some other solution. They simply don't stack up against VIAVault – between our incredible containers, fast deliveries, maniacal customer service and our great prices – there isn't a better solution out there anywhere.
Want to Learn More? Call Us Today: (866) 766-6BOX
Better Containers = Better Storage and Moving
Sounds pretty straight forward right? The simple fact is that VIAVault has taken the time to engineer the very best storage containers anywhere. We left no detail unaddressed, and didnt design our containers from the perspective of profit, but instead from the perspective of whats the best way to store and move our clients belongings?
Our containers are made of a weather resistant composite material that is as strong as steel, but doesn't react to temperature changes – nor does it ever sweat. Helping prevent rapid temperature changes as well as mold from growing inside the containers. Unlike our competitors, we don't use roll up or steel tube doors, our "vault" door offers security and convenience while allowing you to enjoy a container with the most usable internal space of any container on the market.
It doesn't matter if you are considering a PODS, MIBOX, UNITS, PACKRAT or some other solution. They simply don't stack up against VIAVault – between our incredible containers, fast deliveries, maniacal customer service and our great prices – there isn't a better solution out there anywhere.
Want to Learn More? Call Us Today: (866) 766-6BOX
This is compared to some other lifts that suspend the POD from chains from a monster lift device that is a structure which has rubber wheels that mark, rut, and scar your concrete and landscaping while maneuvering the suspended POD onto your surface.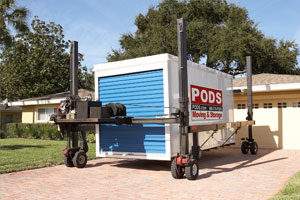 The other alternative is the roll-off delivery systems that risks damage to your driveway or finished surface by striking the ground with steel rollers, or wheels on one edge of the container- unevenly striking your surface at an angle potentially rutting, scarring, chipping or cracking your concrete, asphalt, or brick pavers. This method is NOT an equivelant delivery/lift system as VIAVault's Horizontal/Level lift delivery system.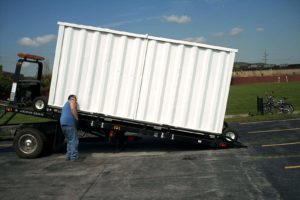 The process of retrieving your Vault for re-delivery or storage at our site is equally, if not more important, than delivery of an empty Vault. Now- your valued belongings are packed inside the container/Vault. VIAVault's custom lift firmly attaches to one end of the VIAVault and gently, maintaining horizontal positioning, throughout the whole lift brings your loaded VIAVault onto the truck chassis and securely seats the VIAVault on our truck for transportation. It takes little imagination to understand what would happen to your belongings packed inside a POD or container that is picked up from a swinging and swaying chain suspension device, or worse yet a tilt bed truck rolling your packed container up an incline to truck bed height.
The Best Price Guarantee
Uncompromised Quality and Service backed by a Lowest Price Guarantee.
If you have made a booking through our website and find a similar Vault deliverable with a similar Horizontal/Level Lift Delivery System as VIAVault for a lower rate within 24 hours on a competing website, we will match this rate and add a 10% reduction.

As a locally owned and operated portable storage facility serving NWI and the greater Chicagoland areas, our team knows what it takes to provide you with the service, amenities, and peace of mind you need to feel confident during your busy move. Our portable storage units come in three sizes, 8'x12', 8'x16', and 8'x20′ making it easy to rent the perfect space for whatever your belongings require. We'll bring these units directly to your property, allowing you to fill it on your own time and then call us when you're ready to have it returned to our secure property. Reach out to our team today and we'll get you started.
Plus, because our units are entirely portable, you can have them delivered just about anywhere in the greater southern Chicago area. Our main office and facility is located in Dyer, Indiana, but our service area reaches out well beyond the confines of our home base. Whether you live in the Illinois cities of Crete, Lansing, Olympia Fields, Homewood, or South Holland, or the Indiana cities of Saint John, Schererville, Munster, Highland, Cedar Lake, Hammond, Merrillville, or Crown Point, we want to give you a hand with your move or business storage project. Give our team a call to ask about the portable storage process or visit our FAQ page to get more information about our facility and services!