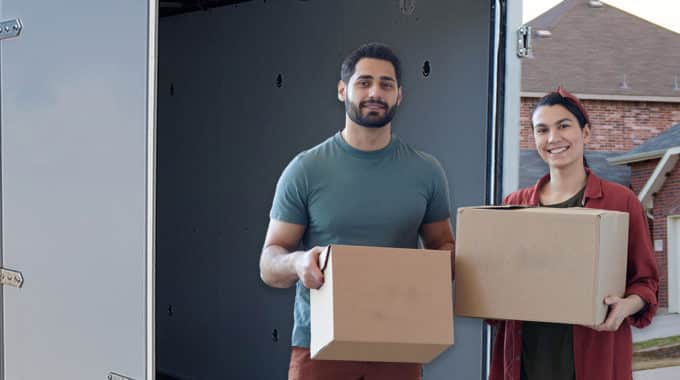 How Much More Space You Get From a Via Vault vs the Other Guys With Roll Up Doors
There are many things in life that are good. However, there are many things in life that are great.
Good or great becomes the choice many of us have to make. Do we live a good life or a great life?
Do we have a good marriage or a great marriage?  Do we want to be good parents or great parents?
When it comes to a portable storage container for your household items, do you want a good unit or a great unit?
There are some good portable storage units like the Mibox.
However, there is only one great portable storage unit and that is ViaVault.
Portable Storage Container Basics
Getting a portable storage container unit can be a convenient solution when you have to move or need some storage for a short time. There are a few basics you want to make sure they cover.
Room for Your Stuff
You want to get a unit that is the right size. Size does matter and you want to make sure that your unit can handle all of the items you want to put in it.
If you are moving, a portable storage unit is one of the most convenient ways to move. The unit is the perfect place to store your belongings and you don't have to rush.
Then you can have someone else move the unit for you. That is so much easier than trying to drive a large rental truck through traffic!
Protection From the Elements
The best storage solution will protect your personal property from the elements. The most damaging part of storage is if any of your property gets wet.
Moisture can allow mold to grow on your clothes, furniture, or other personal property.
You need a unit that is water-tight and built to withstand all that mother nature throws at it.
Protection From the Move
One of the best benefits of loading your own storage container is the respect you have for your own property.  You can be careful with it because it means something to you.
Professional movers are doing a job and your stuff doesn't mean as much to them.
You also want a storage container that doesn't get tilted or shift violently because it will harm your things.
These are just a few of the basics you want to be covered with your portable storage container.
Let's look at the good vs great solution of Via Vault vs Mibox and similar competitors.
ViaVault & Mibox Similarities
Loading & Unloading
ViaVault and Mibox both offer a horizontal loading and unloading system.  This keeps your unit from getting tilted during the loading and unloading process.
Knowing this will help you be able to plan your packing with confidence.  The smooth horizontal loading will help protect your items in the unit and keep them from being damaged.
Another benefit of the horizontal system is the ability to keep metal from digging into your driveway and messing it up. You want a storage unit that doesn't leave marks in your driveway.
Galvanized Steel
Both companies have galvanized steel bases for their units.  This is important because it keeps the metal from rusting while sitting on your property.
Some storage containers do not have galvanized steel. This becomes a problem over time because sitting out in the elements could cause one of those units to start rusting.  That rust could end up on your driveway.
You don't want rust stains left on your driveway after moving and the wrong storage container could leave them.
Via Vault & Mibox Differences
Extra Width
Mibox units come in different lengths.  Their width is standard and that is 7'2″ across.
Viavaults come in different lengths and with a standard of a full 8′ in width for every one of their units.
The difference equals more usable space for you. For a 16′ unit that difference comes out to almost 106 square feet of usable space!
Why go with a good width when you can have a great width?
Door Space
Via Vaults are built with secure full-sized hinged swing doors.  These doors open fully to the outside and take up no inside space at all.
They won't get in your way as you load and they won't take up precious space in your unit.
Roll doors are the standard for Mibox and many other portable storage units.  Those doors take up space inside the unit that you can't use to pack.
The other potential issue with rolled doors is if things shift in the unit and lean against them. This could cause opening them to be a problem.
Door Security and Seal
Rolled doors can be locked but they are often made up of flimsy steel or plastic in many companies' units.
Via Vault uses a secure and vandal-proof door. It comes with a solid steel rod locking mechanism that goes from floor to roof.
Via Vault also incorporates a dual rubber seal all the way around the door. The seal causes the doors to be dust, dirt, water, humidity, and flying/crawling insect resistant.
Mibox's roll-up doors cannot provide the same level of protection.
Container Rain
Many companies have walls made of simple steel in their units. You actually have to ask because they usually won't say what their walls are made of.
ViaVaults constructs their unit walls and doors with thermally resistant material that does not react to immediate temperature change like simples steel walls.
When the temperature changes quickly, steel containers can "sweat."  This sweating can create "container rain."
Container rain is when condensation forms on the roof and walls of the unit and drops on your possessions.
The Best Storage Solution
Mibox and some of the other portable storage container companies are good, but they aren't great.
If you want the best storage solution for your items, you want a great portable storage company that provides incredible units and great service.
ViaVault is your home for great portable storage!
Request a free quote online for your next project.