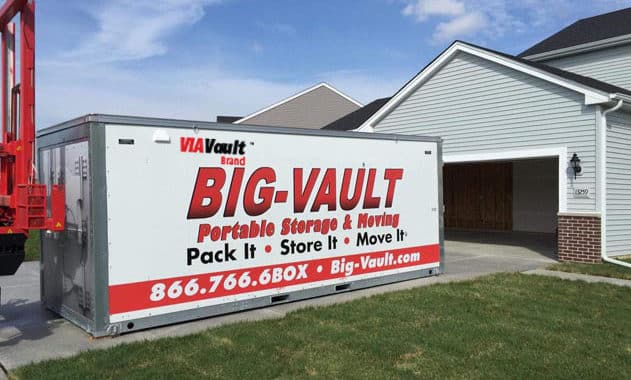 What should be important to you when you choose the portable storage company to keep your precious belongings within through the changing seasons is how the environmental conditions are INSIDE your individual container and not the false sense of security portrayed with a photograph of how nice a stack of containers looks inside a well-lit building.
The purpose of that building, in some portable storage company cases, is a necessity because the containers in which your belongings reside is not built with the right materials and/or not engineered with the proper components to be able to withstand the changing outdoor elemental conditions from season to season or week to week, or even in some cases from day to day. These should NOT be outside by themselves.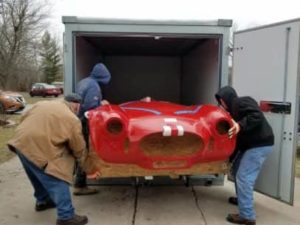 You see, with VIAVault, it does not matter if the container is stored indoors or outdoors BECAUSE the individual vault (container) is built from the ground up to keep the contents stored within it to specifications that ensure the INSIDE of the vault breathes at the proper rate, and that the walls do not sweat from rapid temperature alterations which are common in most all geographic areas. The only Vault (container), (box) that meets these precise prerequisites is from ViaVault with their Big-Vault, Mid-Vault, and Lil'-Vault brand of full-size containers which provides even greater value than the competitors "mini-mi" box.
The single biggest reason some competitors' boxes really must be stored indoors are the "roll-up" type doors used by some (the ones that show you bright indoor boxes in storage). Roll-up doors are popular in storage facilities where drive-up access is normal. Reputable self-storage operators such as Castle Storage in Dyer, IN will be the first to tell potential customers that the exterior units with roll-up doors only provide the same protection to your stored contents as that of a common garage. Maybe even less protection from temperature and humidity swings of the outside environment. This is due to the roll-up doors. Operators like Castle Storage offer "temperature-controlled" storage rooms that are fully indoor for a little more cost than the outdoor units, but a lot more protection from the elements like airborne dust, dirt, humidity, bugs, insects, and temperature swings causing condensation.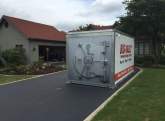 An old-style, non- temperature controlled or non-climate controlled "indoor" storage unit with a roll-up door is only slightly better than a portable storage box with a roll-up door. The best brick-N-mortar style storage room is one like those found in all Castle Storage properties where treated air is ducted directly into each and every individual unit. What is best in a portable storage room is a fully sealed composite material door with just enough venting to provide a delayed and slow change from rapid temperature swings. This venting is done in tightly engineered wall vents NOT in gross (dust, dirt, bugs, and insects) air transfer inherent in roll-up doors.
Don't be fooled. There are other portable storage companies that utilize a hinged style door like ViaVault, but these doors are made of nothing more than thin steel skins (in fact usually the entire box is made of thin steel skins). Steel skin walls and doors will experience the formation of condensation over and over sometimes within minutes of quick outdoor temperature changes. This condensation is on the inside where your belongings are stored and sometimes leaning against only to absorb that moisture and get wet. Wet items stored in dark areas are likely to form dreaded mold.
BEST PROTECTION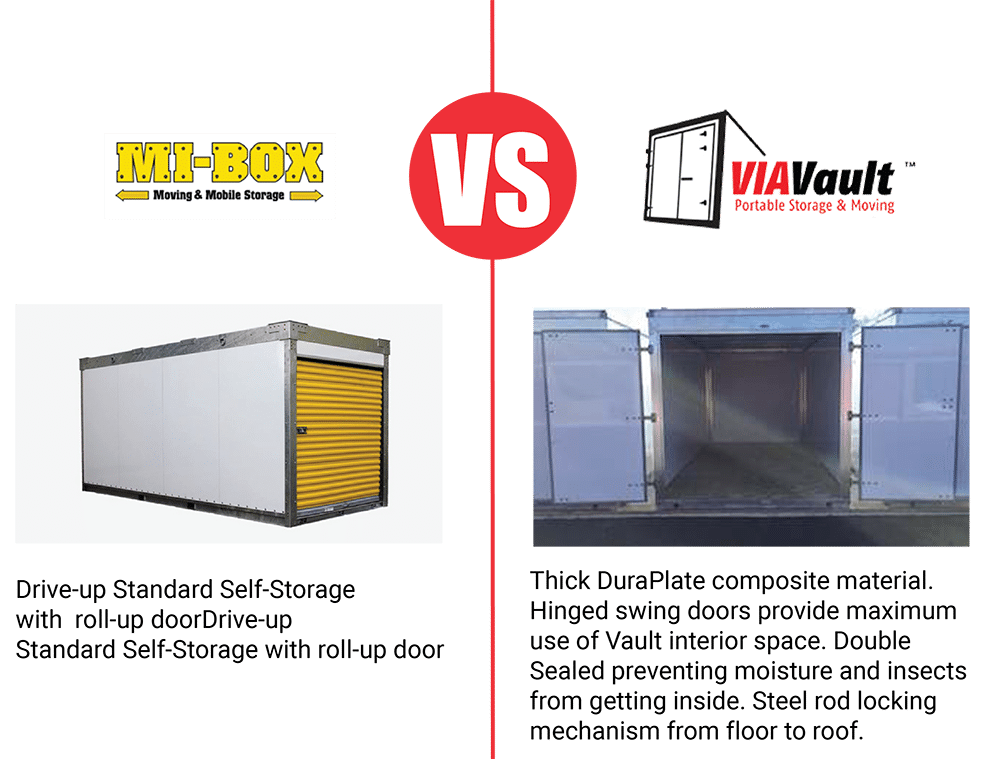 If you'd like to learn more about ViaVault and our Big-Vault portable storage containers please request a quote or call our customer care representatives at 866-766-6BOX.