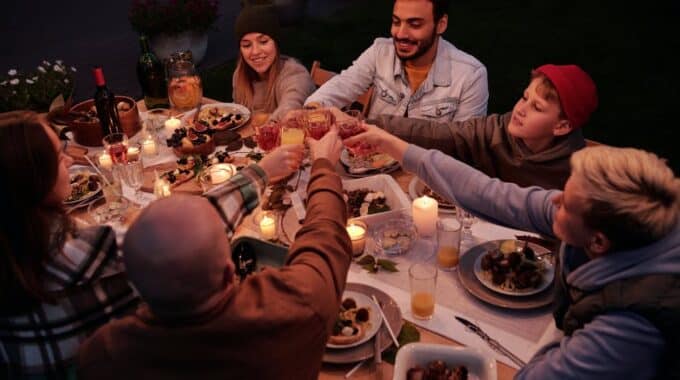 How to Make Space for Guests During the Holidays
The holidays are meant to be celebrated with family, but that doesn't mean you need to be crammed together all day. In fact, 30% of Americans say that they would argue less if everyone had their own space.
If you are planning to have loved ones over this year, especially overnight, then you need to prepare your house to make everyone comfortable.
Start with these tips on how to make room for your holiday guests.
Declutter
The only way to have more space is to put things away and remove clutter.
Begin by picking up things like excess toys, old gadgets, and dirty laundry. Place these objects in a toy bin or cabinet, or move them to the basement. Some of it can also be thrown away or pack them into brown boxes.
Decluttering helps you with another major task: cleaning. Like it or not but 71% of Americans judge their relatives on the cleanliness of their homes. So, be sure to do a deep clean to avoid any criticism, and make sure to throw away any junk that you find along the way.
Rearrange and Transform Living Areas
To make more room for your holiday guests you may need to rethink your home's layout. The most used portion of your home is your kitchen and family room.
Try rearranging the furniture and placing to the side any pieces you won't need. For example, create seating areas by removing unnecessary furnishings or decor.
You may also need to use the living areas for sleeping arrangements. If you don't have a sleeper couch, then invest in air mattresses, cots, or futons to make your guests cozier.
Decorate Minimally 
Be sure to spread holiday cheer with decorations without creating obstructions for your guests. For example, use hanging decorations and place the tree behind the furniture to expand your walkways.
Be minimalistic with your design to keep things festive and clutter-free. Do this by storing extra holiday decorations in brown boxes or plastic storage bins. Place these bins to the side, with your other pile of boxes and furnishings.
Prepare for a Feast
As a holiday host, you are responsible for feeding your guests. Be sure to make room for the extra food required for your guests as well as space to prepare and store your food.
Remove large appliances that you won't need during the holidays to create more space for ingredients and snack options. Place these appliances in plastic bins or boxes and put them in your pile of non-essential items.
Your holiday gathering may also need serving and seating options. Try storing smaller tables and temporarily replacing them with buffet-style and larger dining tables.
Storing Your Extra Items
Now that your home is organized, you can move all the non-essential things out of the way. Consider storing these items in the following places:
Attic Space
Garage
Basement
Outside Shed
Via-Vault portable storage containers temporarily store items out of your home. These portable storage containers are delivered to your house by a smooth level-load/unload truck and allow you to load and unload them at your convenience.They are weather tight and can hold up to 1380 sq/ft of items per 8'x20'x9′ container. Via Vaults are also 10″ wider than our competitors, and provide more inside storage space.
Store them at your home, or have the container picked up and stored at their facilities.
Getting Ready for the Holidays
It is never too early to start preparing your home for the holidays. But, it can get too late. You don't want to wait to find space for your loved ones or make them feel unwelcome.
Start today by requesting a free quote for a portable storage container.